ISAP (Silver Aloe Protection) Are Natural, Safe, Highly Effective Antibacterial Agents.
They are widely used in medical, water purification, skin care and antibacterial treatment. Experiments have proved that ISAP kills 99.9% of bacterial, inhibits bacterial and mold reproduction, eliminates odor, Long-lasting personal and environmental protection against bacterial and viral. ISAP can be used almost anywhere, greatly reducing the possibility of bacterial infection.
– ISAP • Micro Silver Ion
– Aloe Vera Extract + Exclusive Europe Technology
Carry ISAP with you anywhere you go as its compact size allows you to keep it in your bag.
Usage varies from using on your body for wounds, cuts, insect bites, allergy, mattresses, clothes etc.
Safe for kids & pregnant women.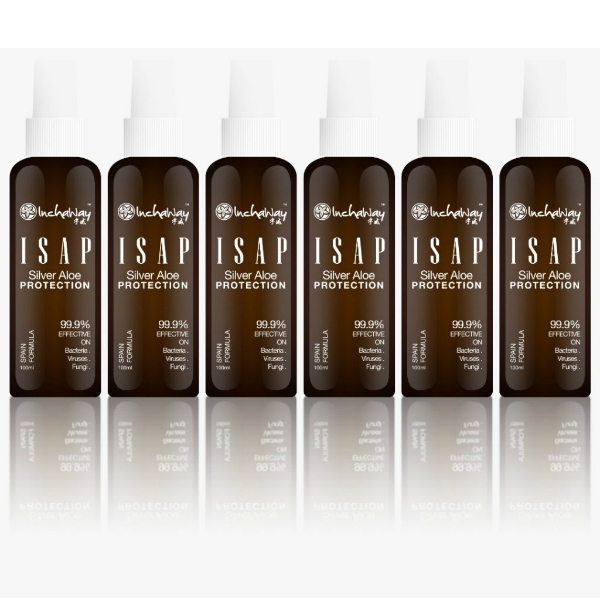 Member Price SGD103.00 | MYR290.00
Non Member Price SGD124.00 | MYR328.00
ISAP 爱倍净99%抗菌杀菌 芦荟银离子 随时喷一喷 个人防护 菌不爱 定期喷一喷 居家安全 菌不生 对抗细菌刻不容缓! Food grade级的杀菌神器你看过吗?介绍你宇威的杀菌法宝ISAP- Inchaway Silver Aloe Protection. 哪里有细菌就喷哪里,喷在口里也没问题 喷一喷,细菌无处可奔 ISAP  成份:天然芦荟萃取 非纳米银 无菌水 (SGS 检测不含任何防腐剂 化学物质 重金属) 技术指标: 欧洲科技 独家非纳米银+天然芦荟萃取 双重功效 SGS 和 LOTUS 检测证实杀菌功能 99.9% 主要功能: • 杀菌/病毒 抗菌抑菌/病毒 除霉防霉 • 伤口消炎/镇痛 保护修复 • 皮肤保湿/修复 使用于: 玩具 厨具 餐具 寝具 冰箱 冷气机 洗衣机 浴室 地板 把手 衣物 手机 随身物品 宠物 宠物用品 盆栽 花卉 水果 车上 机上 座位 床位等等 安全用于: 皮肤舒缓 消炎 镇痛 保湿 脸(闭上眼睛) 适量用于: 鼻腔/口腔 抗菌消炎防护 使用方法: (1:1 稀释) • 从300ml ISAP 瓶中取50ml,倒入一个100ml 干净的瓶子,加上50ml 过滤/蒸馏水,即可使用 • 可否不稀释使用:可以 *请注意:原装ISAP使用无菌水,无色无味,而个人稀释加入的水中含有菌或杂质,会变轻微的白色,几天后可能会有轻微的味道,属于正常现象,不影响功能,放心使用.
温和, 不刺激, 可直接喷眼,可以吞食。 So mild that you can directly spray onto eyes and directly into mouth.
Simply contact Jenny Lim (65) 8182 3325 for member registration to entitle member benefits!!
歡迎聯係我們注冊會員,以享有會員優惠!