MULTI-PURPOSE SANITIZER SPRAY ISAP SILVER ALOE PROTECTION
**WHILE STOCK LAST**
**READY STOCK AVAILABLE**
Personal Use Instant Sanitizer Disinfectant Spray
Anytime. Everywhere. 24/7.
All-Natural Disinfectant Spray!
An All-Purpose Personal Care Spray – Keeps You & Family Safe Away From Home.

All-Natural Disinfectant Spray
Use for work station, everywhere you go, any surfaces, hand sanitizer, mobile, glasses, chargers, keys, wallets, purses, watches, keyboard, laptop, computer mouse etc.
NO CHEMICAL, ECO FRIENDLY, BABY SAFE BRAND
Enter the lifestyle & Simply the best choice!
Disinfectant formulated even for child safe sanitizer spray for all your family members. Kills Germs 99.9%
A practical approach using ISAP Silver Aloe protection is surely a practical approach in the areas we work.
Bring along ISAP if visit Hospital for appointments or checkups. Keep yourself safe from germs.
ISAP can be used to disinfect and sanitize the inside of your fridge. Dirty fridges can breed harmful bacteria.
Did you know the air inside our home is more polluted than the air outside? ISAP spray keeps air fresh.
As a disinfectant solutions for your furry friends after a walk outside the house. Keep your pets safe too.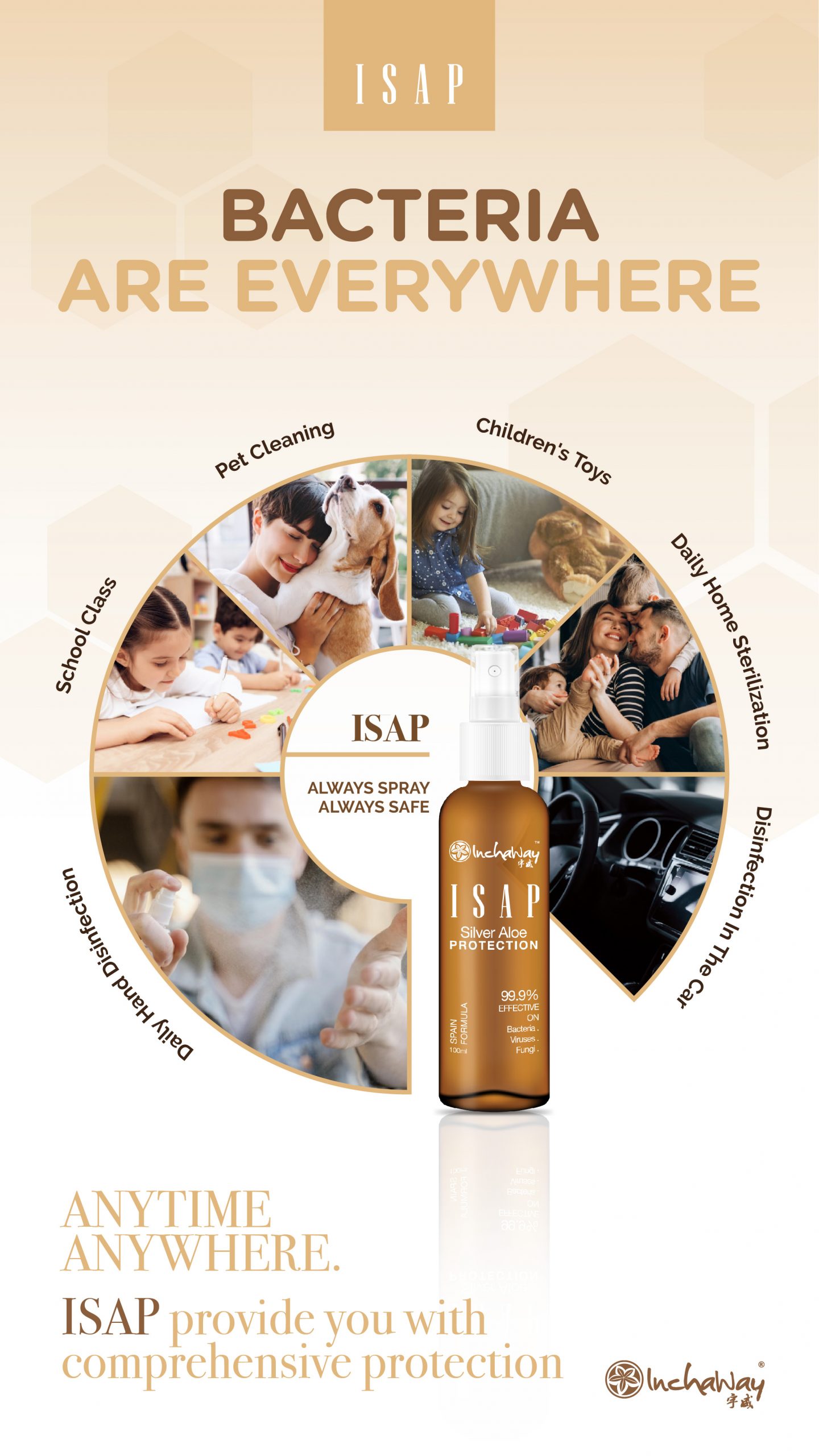 ONE ISAP SILVER ALOE PROTECTION
SGD113.70 (Join Member Add SGD3.55) 
Courier Fee SGD5.80 (3 sets & above FREE Delivery)
<<<<<< URGENT SELF-COLLECT AVAILABLE – PLS PM 8182 3325 >>>>>>
PayNow:

8182 3325 (Jenny Lim)

"I'M INTERESTED PLEASE DELIVER TO ME" 
By getting from us, you are guaranteed with,
•    100% GENUINE PRODUCTS
•    Fast delivery
•    Trusted with health product selling experience
•    Smooth and guaranteed transactions
•    Reliable and friendly
Trusted Brand. Personal Sanitizer Suitable For Home, Work Place, Children Study Room, Hospital, & Even For Your Furry Friend.