Step-by-Step DIY Online Order (SGD for Malaysian Member)
1. LOGIN your Member Account e.g. MY0909744, Password 67xx2G
2. Click 'WALLET' to check if enough $ in your BONUS WALLET OR E WALLET
3. Before purchase any item, sufficient $ is needed to be TOP-UP to your account's E Wallet.
4**. You can either purchase using Credit Card (SEE BELOW) OR Bank transfer to Sachaway Sdn Bhd to Public Bank Account 3199862020

5. Once done, please snap a copy of your Bank Receipt (Please write down your Member account).

6. Next, send your receipt to Inchaway's Staff-In-Charge to this Whatsapp Mobile No: +60 14-616 0978
7. Please wait a while for the office staff to do the necessary verification and TOP-UP to your account.
8. You will be informed when the TopUp is done & transferred.
9. LOGIN to your Member Account to check if it's done and in order.
10. Next go to Click SALES – go to MAINTAIN and start to order your item.
4** Go to WALLET to Top-UP if using Credit Card for purchase.
Look for MEMBER E WALLET TOPUP, CLick to enter page.
Enter the amount to remit to your e wallet, payment select Visa/Master
If in doubt, please whatapp hp: (65) 8182 3325
自己在线订购(马来西亚会员RM)
1.登录您的会员帐户,例如MY0850855,密码67xx2G
2.单击"钱包"以检查您的奖金钱包或电子钱包中是否有足够的钱
3.在购买任何物品之前,您的会员帐户需要有足够的钱
4.您可以选择银行转账或直接用信用卡购买,如转账请转到 Sachaway Sdn Bhd 的 Public Bank 帐户: 3199862020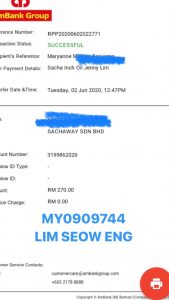 5.完成后,请获取您的银行收据副本(请写下您的会员帐户)。请参阅下面的示例。
6.接下来,将您的收据发送至Inchaway的负责人,并将其发送至此Whatsapp Mobile:+60 14-616 0978
7.请稍等片刻,让办公室工作人员进行必要的验证并充实您的帐户。
8.当完成并转移充值后,系统将通知您。
9.登录到您的会员帐户以检查其是否完成和顺序。
10.接下来单击"销售"-并开始订购您的物品。
4 **如果使用信用卡购买,请转到电子钱包充值。
查找"会员电子钱包顶部",单击进入页面。
输入要汇入您的电子钱包的金额,请选择Visa / Master




如有疑问,请致电whatapp hp:(65)8182 3325